Saturday, August 8, 2020
Welcome back and Nancy, here. Would you be needing a nature or fishing card or project?
The perfect start to your forest/nature scrapbooks, cards and more is with the beautiful

Stamperia Forest

collection! This package contains ten 12x12 inch double-sided sheets with a different design on each side.
The Stamperia Forest
collection also includes stencils, stamps, decoupage papers and rice paper. Everything you need to express your creativity!
I have so many hunters and fishermen in my family which makes this collection ideal for creating birthday and projects for them.
The Rubber Buggy

has all of the name-brand products and supplies you will want for your next crafting project, scrapbooking or card making.
My card is fairly large measuring 7" x 8" but it was soooo much fun to create for my nephew who is a a fisherman and hunter. I added the

Nuvo Crystal Drops Clear Morning Dew

on the bubbles and fish on the patterned paper. The clear crystal drops added a beautiful glossy appearance on the bubbles and fish and almost made the fish look real.
I added the large and small green sequins and some beads throughout the front of the card using the
28 Lilac Lane Shaper Mix - Deck the Halls

.
I really love the variety of colored sequins, buttons and beads in the 28 Lilac Lane Shaper boxes that come in a variety of colors and mixes.
I added the
Stamperia Forest Die Cuts chipboard
on the front and inside of the card. I used a hot glue gun to adhere the rope. I had a fishing lure die that was cut out with metallic copper paper. This die has been retired a few years ago.
I covered the inside of the card with this paper. Also, I scanned one of the journal sections found in this collection and used my Photoshop to type and print out the journal with the sentiment. I cut it out and added to the inside of the card.
Previously in the past for other cards, I taped the original journal section on copy paper and print the sentiment on section which is very time consuming since I had to make sure the sentiment would be nicely centered, etc. which would take some trials of printing to get it right before printing on the original patterned paper.
Below are the papers from this paper pad used on this card.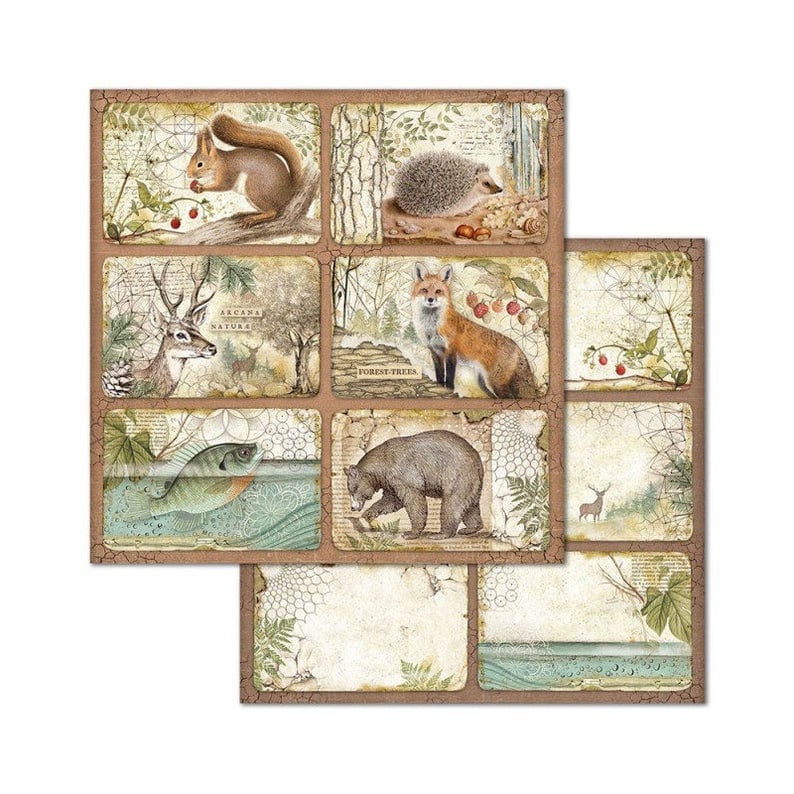 The Stamperia Forest die cuts includes 65 assorted die cut chipboards in this packet that coordinates with the Forest collection.
Thanks for your visit today!

The Rubber Buggy has the crafting supplies for your next project. So have fun crafting this weekend with these products.
My cards and projects are always posted on Saturday. Keep watching and thank you so much for those wonderful comments as well as suggestions.
Enjoy and Happy Crafting!